Communities
Burney
"Beautiful and Friendly" best describes the town of Burney.  Located just 50 miles northeast of Redding on Highway 299 east, Burney is nestled at the base of Burney Mountain, which is at the northern tip of the Sierra Mountain Range.
The area surrounding Burney offers a host of activities, with numerous fishing spots, campgrounds and breathtaking scenery.  The roads to and from Burney lead to a variety of adventures including fly fishing, boating, water skiing, parasailing, camping, hiking, day trips, golfing, picnicking and Indian gaming.
Burney is your gateway to the Intermountain Area serving the communities of Burney, Cassel, Hat Creek, Old Station, Montgomery Creek, Round Mountain and Big Bend. Read more
---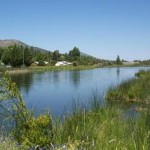 Fall River Mills
The Fall River Valley is perfectly situated in North-Eastern California, between Mount Shasta to the north and Mount Lassen to the south. The area is home to abundant wildlife, produces diverse agricultural products, has countless recreational opportunities and supports a community that offers small town comforts. Read more
---
Hat Creek and Cassel
Hat Creek is popular for its trophy trout fishing. The cold waters of the creek allow for a refreshing play on hot summer days. Other popular activities in the area include wildlife viewing, hunting, backpacking, hiking and caving.
A variety of day hikes are available in the area, including the Spatter Cones Nature Trail, which is located just across the highway from the campground. The 1.5-mile loop trail provides hikers with a unique opportunity to explore craters, cones and crevices, as well as other geologic features left by the Hat Creek Lava Flow.
Nearby, visitors can take a self-guided tour of Subway Cave. The trail is less than a half-mile long and explores the underground world of a lava tube. Visitors are encouraged to bring flashlights for hiking through the cave. Read more
---
Old Station
Old Station was once a stagecoach stop on the trail from Sacramento to Yreka in 1857. It was also a temporary military post while soldiers patrolled the stage road. Old Station also sits on an alternate route of the historic Nobles Immigrant Trail to California that was used by gold seekers around 1852. Read more