Burney
Burney

is an unincorporated town , Burney is located on State Route 299, about 4 miles west of its junction with State Route 89. With a population of approximately 3200,Burney is considered the Hub of the intermountain area.
There is a lot to see and do in this, the largest of the communities in the Intermountain Area of Eastern Shasta County. Fly fishing, boating biking on the many trials. There is a new 80 mile Trail being developed by Shasta Rails to Trails Group. Hiking, Biking, Horse Back Riding….. There is a group currently working to develop numerous off road biking trails. You can rock climb about 25 miles away in the canyon, to the West of Burney.
Burney has a K-6 and a Junior-Senior High School. The Fall River School District just installed a field of solar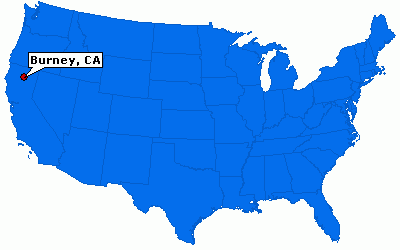 panels to increase efficiency and reduce cost to the District.
If you like small town celebrations, Burney is King…. Burney Basin Days happens over four days starting on the Thursday prior to the first weekend in July. The parade is always on that Saturday. The Rotary Fireworks' held that same evening are huge and compare to much larger communities , due to the great fund raising just for this event, attended by thousands of spectators . COME VISIT, COME PLAY, COME LIVE IN BURNEY!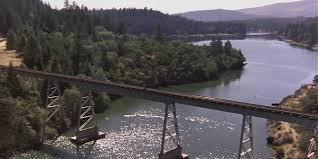 Burney Falls
Parts of the 1980s film Stand by Me were filmed within the vicinity of Burney and Fall River Mills, California. The scene where the boys outrace a locomotive across a trestle was filmed at Lake Britton on the McCloud River Railroad, near McArthur-Burney Falls Memorial State Park, California.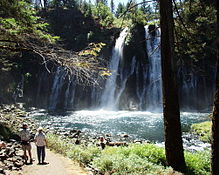 Burney has several areas for fly fishing, with wild brown and native rainbow trout in many nearby rivers and streams, including Burney Creek, and Lake Britton . Other attractions in the area include McArthur-Burney Falls Memorial State Park, home to the famous Burney Falls, once called the 8th wonder of the world by President Roosevelt. The falls drop 129 feet into a clear pool of very cold water. Make sure to take to walk down to the falls, about 1/3 mile from the viewing area at the top. You can continue around and over Burney Creek to the other side of the Falls and back to your starting point. The falls are beautiful year around, you have to come back and see them in their frozen state in winter.
Burney was named after Samuel Burney, a settler in the area in the 1850s. Burney was found dead in the valley in 1857, which came to be called "the valley where Burney died," and finally just "Burney".
The town of Burney sits at the base of an extinct volcano called Burney Mountain. The peak is 7,863 ft tall
Period of Record Monthly Climate Summary
Period of Record : 7/ 1/1948 to 3/31/2013
| | | | | | | | | | | | | | |
| --- | --- | --- | --- | --- | --- | --- | --- | --- | --- | --- | --- | --- | --- |
| | Jan | Feb | Mar | Apr | May | Jun | Jul | Aug | Sep | Oct | Nov | Dec | Annual |
| Average Max. Temperature (F) | 43.6 | 49.4 | 54.3 | 61.5 | 70.5 | 79.1 | 88.0 | 86.7 | 81.0 | 69.0 | 53.1 | 44.2 | 65.0 |
| Average Min. Temperature (F) | 19.1 | 22.9 | 25.8 | 29.4 | 35.4 | 41.2 | 44.4 | 41.6 | 35.9 | 29.0 | 24.8 | 20.4 | 30.8 |
| Average Total Precipitation (in.) | 4.63 | 4.09 | 3.55 | 2.03 | 1.49 | 0.79 | 0.16 | 0.33 | 0.70 | 1.78 | 3.46 | 4.84 | 27.86 |
| Average Total SnowFall (in.) | 12.0 | 6.2 | 5.8 | 2.9 | 0.3 | 0.0 | 0.0 | 0.0 | 0.0 | 0.1 | 3.1 | 10.6 | 41.0 |
| Average Snow Depth (in.) | | | | | | | | | | | | | |